Good Afternoon! (or Morning or Evening where ever you may be in the world) :)
Finally I get a free moment to shoot out a post!
As mentioned in the last mini-post, we've been in the process of moving and it's taken me a while to figure out where everything is. Also because I was watching the baby, I had my mother-in-law and niece packing for me so unfortuatnlely it took extra long to figure out what was in which boxes!
FINALLY got it all done. Moving is such hard (and stressful) work!
I love the house we are in now. (Just a rental until our new one is built.) Naturally I had to set up some dollys! Most from my former shelf are carefully packed away but had to set up my newest loves.
And the guest bedroom is just PERFECT for them!
One thing I like about old houses. They contain details that might not be found in a newer home. Like this built in bookcase. Perfect for my ever-growing EAH collection!
The most beautiful Apple, Briar, Dexter and his love Raven, and Cupid
Cedar, Blondie and my three awesome Wonderlandians: Kitty, Lizzie and Maddie.
The fabulous Cerise, Duchess, Ashlynn and her love Hunter, and the sweet sisters Holly and Poppy.
And on the end my two newest: Ginger and Darling.
On the bottom we have the most beautiful Thronecoming collection. Apple, Raven, Briar
And then we have Blondie and Cupid. As always, Enchanted Evening Barbie is also there because she's my favorite. (My mom had the original but my psycho aunt stole it from my grandmas house and sold it in her garage sale. Will NEVER let that one go.) *rant over* :)
In the middle we have a collection that I have not featured on my blog before. This is my "something special" that I mentioned in the subject. My Lord of the Rings Coronation Gift Pack. I LOVE LOVE LOVE Lord of the Rings. It's my favorite books and movies of all time. So when I saw these action figures manufactured by Toy Biz, I wanted them. Because I have the best parents I received them for Christmas quite a few years ago.
I love the detail however the faces of the girls could be a little less "old" I guess you could say. They didn't make Eowyn and Arwen as youthful as they look in the movies.
Here we have Faramir (BE STILL MY HEART) and Lady Eowyn.
Next King Aragorn and Queen Arwen.
And Lastly, Eomer, King of the Riddermark (from Rohan.)
I just love the detail on these figures. They are really accurate and that's one of the reasons why I wanted them.
Alright, on to the newest members of the Barbie family!
This one is easy. :)
This is Viveca from Barbie and the Three Musketeers. Surprisingly she still has her crown/mask. You may recall from a long time ago, I picked up Corinne and Aramina also at the thrift store. Now I have all 3! I have a full outfit Corinne (Barbie) and a partial outfit for Aramina. I may have to buy them on eBay. It's fun to have them all now!
This one is a generic new body doll with a handmade dress. I don't think the entire dress is handmade but I know the lace on the front is. It's kind of haphazardly sewn on. Kind of pretty though!
Next this super sweet girl. And she still smells like strawberries! I just love her! I thought she might be one of the Beach Sweetie dolls but couldn't find one that had this outfit. Anyone know who she is?
Next we have this beautie. Mackie head mold? Yes please!
This is one of the 2004 Zodiac Dolls. This is Aquarius. Her dress seems to be a little faded and her earrings are mostly missing but her emblem on the dress is intact so that's a plus. For $1.00 I couldn't pass it up!
Unfortunately her eye is a little wonky too. Boo. But I love the Mackie molds, they are my favorite.
I have this girl NIB.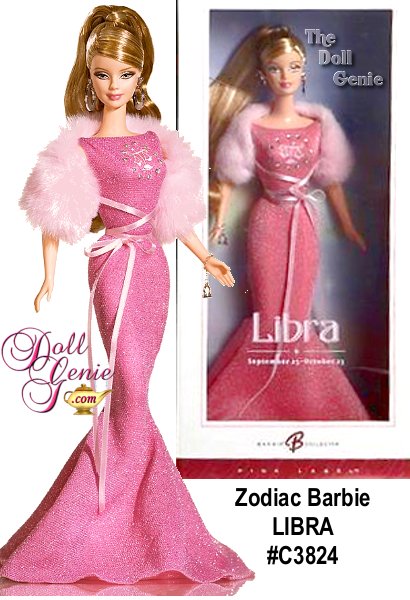 www.dollgenie.com
And lastly, I bought this. Also for $1.00 I couldn't pass it up.
It's the Barbie B-Book Computer! Works good and has fun word and math games for a child.
Well, that's all for today. Have you made any purchases lately? My hubby put the kabosh on my doll spending. Maybe I can talk him into one here soon. There are a ton of EAH dolls I need to catch up on! :)
Until next time!