Hi All!
Well, I am taking a break from doing baby things to type up a blog post! It's been a pretty busy last few days. For those of you who are mommies, "nesting mode" is in full swing! Shopping, making freezer crock pot meals (so mommy or daddy doesn't have to cook!) laundry, setting up the nursery, it's been crazy! But I am glad to say that after making a couple more freezer meals, we are DONE! Hubby told me to relax today so other than doing some "easy" things (where I don't have to bend over, back hurts, ouch) i'm taking a day for ME. :)
Last thursday, a baby thrift store I frequent posted on their facebook page that they had some dollys in stock! WOOHOO! I was going to go there anyway to pick up some baby essentials and decided to take a look. Most of the dollys were newer Barbie, and she had a doll trunk with 4 dolls! All in good condition, nice clothing, etc. However, because I received a couple of fabulous trunks from my dad (including one vintage trunk) I did not need this one.
She did have a 4-pack of Monster High dolls (2 Draculara, a Clawdeen, and one other) with all accessories and shoes included! I felt this was a big score and the price was right at $20! However, because the hubby bought me another doll (it's on it's way in the mail) I decided to pass.
Enough talking, what about the doll I DID purchase?
This fabulous little Skipper! I bought her for my Tiki Hut playset that I talked about in my last post. This doll is not a "stiffie". She has bendable legs and one bent arm if I want to pose her with her volleyball. She has nice hair with a blue streak AND these adorable flip flops.
I'm thinking that she must be this doll from the "Sisters Sleep Out" set. How cute is this.
www.lilfriends.net
And unfortunately since I am unable to check (because all dolly stuff is packed away) I do have that top and possibly the shorts for Skipper!
(Just checked, yep I do. And they are too small for Barbie....) If you want to read about the dolls from this post, you can check here! Yay, original clothes with dolls!
Okay, the new addition. She is the newest member to the Ever After High collection. I present to you...
...Kitty Cheshire!
Hubby's late grandmother got me a $30 Amazon gift card for Christmas before she passed. So I used it to buy this cutie.
I was disappointed with her hair in the promo pictures. Kitty's hair does NOT look like this in the webisodes.
www.mattel.com
It looks like this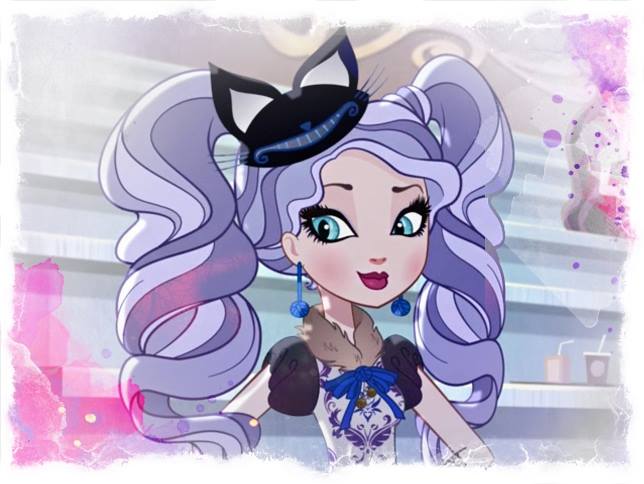 degrassi.wikia.com
So I was surprised when her hair did not come like either but more true to the webisode picture.
I love her! She is so adorable. She is the same height as the other Wonderlandians (Maddie and Lizzie.)
She has the beautiful cat-like eyes and adorable smile. I was put off by her smile in the promo shots but was surprised again when I actually saw her. It looks more subdued and sweet on the actual doll.
I love the yarn ball earrings and the hat. I can't get over it. It's too cute!
Her top has mesh sleeves and a plastic fur collar with a tie.
Her skirt has a black lace over purple satin. And her purse matches her hat!
One thing that people were disappointed with is her lack of arm warmers. It clearly shows in the promo shots that she has them but then the production run of dolls didn't come with them. There is a girl who runs an Etsy shop who makes arm warmers on her 3D printer. I'm thinking of getting some. From what I've been hearing, they are true colors and fit perfectly!
Let's take a look at the shoes!
Black open toe wedges with fur at the top.
I don't know if it was because I didn't have good lighting or what but at first thought, I was unimpressed with the lack of detail that went into these shoes. All the shoes have been great so far so I wasn't sure why these were any different.
Take a look with the flash.
See it now? The shoes have cat faces on them. The lines on the front are whiskers and up by the fur there are ears. Okay, I'm feeling better now.
And you gotta love those tights right?
Kitty also comes with the standard 2-finger ring, hers has three black yarn balls on it.
Honestly, I am very much liking Kitty's hair right out of the box. It's got the right amount of curl to it. Adorable!
And because the Wonderlandians are turning out to be a super fun collection of dolls, I displayed them at the front of my case for a while. All three of them have some super cute tights!
So friends, do you plan on getting Kitty Cheshire? There are two versions of her right now. She was featured as a Wal-Mart exclusive for the "Spring Unsprung" line.
www.walmart.com
I think she is in hot demand because they are out of stock online and I have yet to see her at our Wal-Mart. (not surprising as they don't have any MH or EAH most of the time.) But she is adorable as well! (And cute shoes!)
Anyone already have either Kitty? Let me know in the comments!
Another new addition post coming up in a few days!