Greetings!
I apologize for the lack of posting. Been a rough couple of weeks. But I'm back and luckily, I'm going to get some Barbie playtime! wahoo!
I mentioned to you all a post or two before about a project I have coming up. First, a little bit of information.
I love video games. Not sure if that's hard or easy to believe but I love curling up on the couch and taking an evening and losing myself in a world of make believe (kind of like Barbie right?) My brother and I when we were kids got our first Nintendo long after they came out on the market. We loved taking turns playing Mario Bros. Our favorite game ended up being "The Legend of Zelda". I personally love "Ocarina of Time," one of the games later in the series. This is Link, the main character. You always play him and always play to save the princess.
www.nintendo.com (via gonintendo.com)
Through the years I've gotten into RPG (role playing games) and I love those that are set in a post-apocalyptic world and have somewhat of a "choose your own adventure" feel to them. So many different directions your character can go makes for a very fun action-adventure game. The Zelda games mentioned above you are always the good guy fighting evil where in these games, you can be good or evil. (I'm always good by the way. :)
In the wonderful world of Barbie, we've had many dolls based off of pop-culture and popular movie references.
We've had Bella and Edward from Twilight
barbie.mattel.com
Katniss from The Hunger Games
barbie.mattel.com
The Wizard Of Oz Cast
superstardollspopculture.blogspot.com
And even The King himself.
barbie.mattel.com
So why not make some dolls after video game characters?
My character that I choose at the beginning of the games are always girls. With blonde hair. So Barbie is naturally a perfect fit. :)
In the post-apocalyptic game I'm playing now called Fallout:New Vegas, your character is a courier assigned to a very important delivery to the "New Vegas" strip. I have chosen this doll as my "courier."
Obviously not in this dress. :) But she has longer hair and as much as I hate the one bent/one straight arm, this is perfect for the setup I want for her. She also has articulated legs. Also perfect!
I'm reading a fan fiction of this game where the courier wears a pink hoodie, khaki cargo pants and boots. I'm sure I have a Barbie hoodie somewhere. It's going to be great fun dressing her up.
My next video game character, a guy named Benny.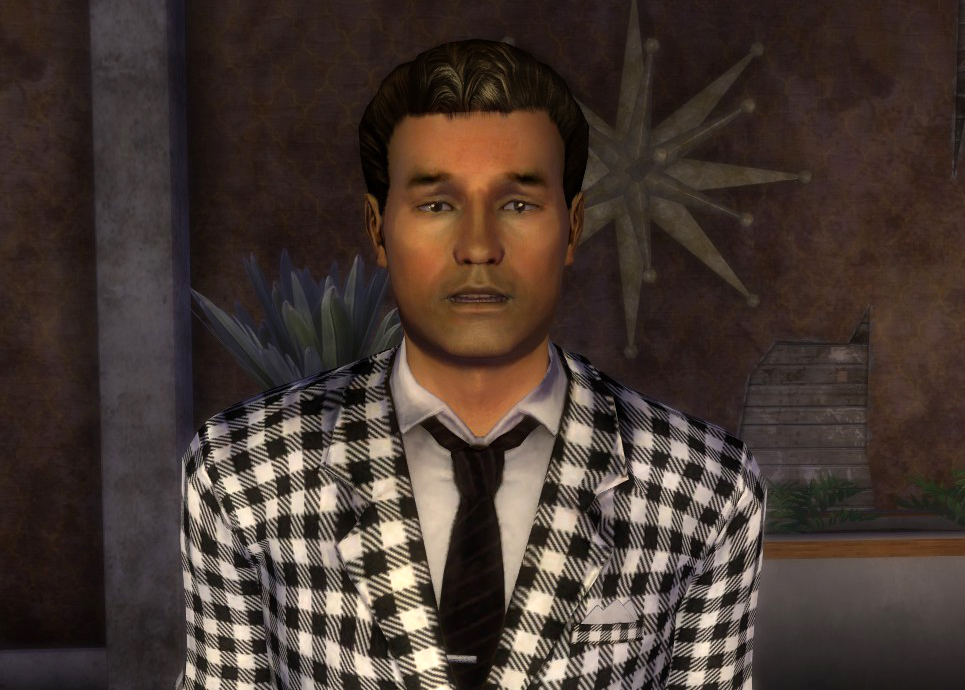 fallout.wikia.com
Benny is the total suave, used car salesman type. He runs a casino on the New Vegas Strip and you encounter him in the game in both good and not so good situations. However, I chose him to make because I have the PERFECT Benny doll for this role play.
Remember him?
If I can get his hair to do what I want, it will be awesome. I also went to the fabric store to find the perfect fabric for his jacket.
Now to find a pattern for a suit jacket for this guy. I have a Ken suit jacket that is close but just a tad small for this My Scene doll. It's a pink suit jacket and I don't really like it so if I have to take it apart to use for a pattern I won't be that worried about it.
So here is my next playtime project! If you know of any places to get Ken patterns, please let me know. I've found a couple sites but none that really struck me yet.
So what do you think of this project? I think it might be kind of fun combining two of my loves: video games and Barbie!
Be prepared for Friday's post where we feature the November haute couture doll of the month!
Until next time!