Welcome again!
Today I have clothes, clothes and more clothes! Wow, this is going to be fun! Thanks to my dad who finds these clothes for me! I never find any clothes

,

w

hat's up with that? I love clothes and I love to do laundry (even dolly laundry!) so getting more clothes is right up my ally

.
Let's see what we have, shall we? And as always, ID

's are always welcome!
I think I know where this came from. :) One of the only two pieces with a Genu

ine Barbie tag.
Has beading at the top.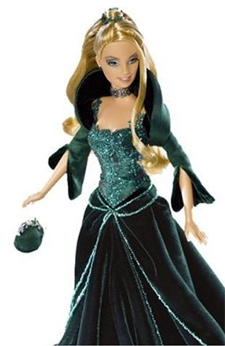 www.fashiondollguide.com
Yep! The 2004 Holiday Barbie. T

he green version (I have the red version.)
All of these have no ta

gs. Strange. Two skirts, pink and purple. Purple has tulle on the sides.
Three dresses. One says "Barbie" on the be

lt. So we know that one is Genuine Barbie (it also has a tag.) The other two dresses are smaller, maybe for a Skipper doll.
Three pairs o

f pants and two capris.
5 tops and one shrug. I love the white blouse on the right! The dark one in the middle is navy blue.
The two middle tops are smaller, thinking maybe for a Chelsea or Stacie. They are really cute. Then on the left is a cheerleader top and on th

e right

a satin tank for a Bar

bie.
Two purple capris, a mauve skirt (that's homemade) and a denim dress. The lighter purple capris are really stiff fabric wher

e the dark ones are spandex.
A beautiful aqua color dress in really good condition. The lace overlay is not torn or snagged. I can see dressing one of my dolls in this one. Anyone know which lovely

this is from?
The most adorable soccer outfit! And it comes with it's own soccer ball! The shorts, coat, jersey, socks with shin guards and a compete pair of cleats.

So cute!
And also in the bag I have some miscellaneous accessories. A Tony Hawk helmet (it kept flipping over so I had to hold it down) a baseball hat, a backpack and two complete pairs of shoes! There was also an adorable little doggie

!
As I was looking at the tag on the dog, I see that it says "

Only Hearts Club."
I had never heard of Only Hear

ts Club so I was curious to see what kind of dolls they were.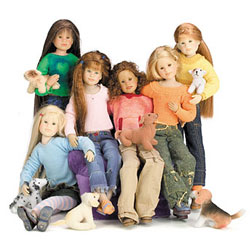 www.toydirectory.com
Oh! I see an outfit! The jeans and the orange top and one pair of shoes go with the doll on the right. Only Hearts Club is a soft body doll with vinyl hea

d,

hands

and feet.

They are cute though.
Look what I found.
www.flickr.com
Apparently his name is Todd. Cute! Wish I had him for his outfit!
I have bits and pieces of these Only Hearts Club dolls. I have my Stacie doll packed away so I cannot try them on he

r. I wonder if they will fit on Skipper?
Also with this batch of clothes I got some homemade ones. Here are pants, a sweater and a dress. I think this is crochet, can anyone tell me? The white sweater is knit with snaps in the front. It's so soft and I thi

nk will look great on a doll.
Here are a couple more dresses. They are kind of crusty, I wonder if they were used for doilies or something. They are completely

s

ewn together so I cannot get them on a doll.
And the last two dresses. The one on the bottom reminds me of a Scarlett

O'Hara dress, not sure why!
Well that's all the clothing for today. I will have more in a couple of days. Does anyone have any information about Only Hearts Club? I've searched but cannot find any more pieces that go together, anyone have any other ideas?

Anyone know how to clean crusty crochet? :) Let me know in the comments!
Until next tim

e!