Welcome to part two of my wardrobe fest! There are a few gems in here I'm really excited about so I'll mention those when we get to them.
I'm not sure if all of them are genuine Barbie fashions but if you know where they came from, I'd love the ID's!
Here are some tops. The one on the left has an asymmetrical hem and a star on the left side. We know the blue one on the right is a Genuine Barbie fashion :)
A few more tops. A yellow halter top, a brown and aqua sleeveless and a flannel long sleeve. It's so soft and cozy, maybe I should pick myself up a flannel button down.
A couple of jackets. I'm not sure if these are Barbie sized. If not Barbie then definitely Skipper.
Some really fun pants! I pair of teal pleather capris, a pair of white satin capris and two pairs of PJ pants, pink stripe jersey cotton and green heart flannel.
Two dresses with attached belt. The one on the left is in pretty good condition with the fabric not snagged at all. The one on the right has some fray.
Two skirts. The denim one is completely open in back. Barbie better be careful when she wears that one!
I know I've seen this swimsuit before but I can't seem to find it on google. And then another bikini bottom. I might have a top that would go well with that somewhere in the depths of my doll stash.
Okay, and these two things I am SUPER stoked about. These are clothes to fit the little Kelly dolls!
Do you know how extremely hard it is to find clothes for Kelly dolls? The only ones I can find online are usually handmade and the Genuine Barbie ones on eBay are going for such high prices. And if you look at Kelly dolls in the stores now, most don't have real clothes! They have a molded top and then the bottoms are actual cloth. What gives with that! No wonder Kelly clothes are in demand.
The dress is not Genuine Barbie but i'm sure it would fit a Kelly. Or maybe not! Looks kind of small in comparison to the top. The blue top is Genuine Barbie and has a T on it. It took me a minute to figure out that it's probably T for Tommy. Which I have a naked one so now I have a shirt for him!
There were also some accessories in the bag. A faux fur scarf, a movie clacker, microphones and an iPod that has a picture of Hannah Montana on it.
So I was sure that some of the clothes were from Hannah Montana so this is what I came up with.
www.ebay.com
So I know I few of the items above came from this Secret Celebrity Pop Star doll but I was unable to find which doll the clacker and the iPod came from.
And shoes! We love complete pairs of shoes. Here's the boots.
I've been needing a pair of cowboy boots and I love the black stiletto boots. I have some other yellow boots so those are meh.
And the shoes! I guess the black and silver could be classified as boots too. The little green ones might be for Kelly!
I just want to say how glad I am that Barbie has started coming out with some fancy shoes! I love the classic pumps but I do love the fun shoes that Monster High and Ever After High have. I'm glad Barbie has some fun shoes too.
And some randoms. I'll have to check my missing shoe bag to see if I have mates for those. I'm thinking no but you never know!
And, along with the Barbie clothes, there was also a small bag of Ken clothes too! Not that I have a whole ton of Ken but it's nice he gets a little bit of a wardrobe too.
I put them together in outfits that I thought looked good together. Here are a couple of shirt and shorts combos.
And then I found this. Beach Fun Ken. (Makes sense since his shirt says "Beach Fun.") Not the right shorts but oh well. I think I have some like this that would work.
www.mattel.com
Shirt, pants, a jacket and a backpack.
The jacket is a bomber jacket. Love that.
Some random shirts. I like the blue striped polo.
In searching I also found this picture. Okay, so the blue shorts I put with the beach fun shirt go with the green one above. Beach Glam Ken.
And then we have some Ken shoes too! Complete pairs! And a nice plastic fedora.
And now this.
More little clothes! For my Tommy doll! But these look about the same size as the dress, maybe too small for Tommy. The shirt has a tag.
I searched for Happy Family and I think this is the family (spin-off doll line) of Midge and Alan. Here's Alan and Ryan in the outfit!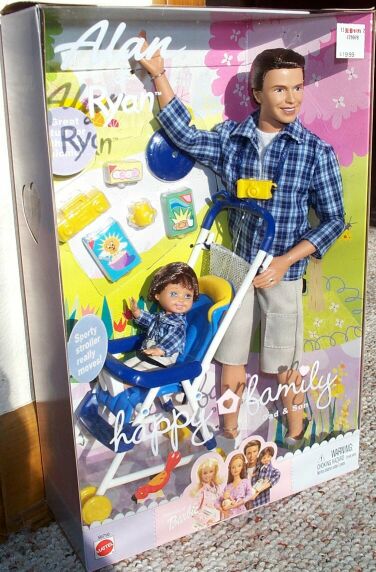 www.manbehindthedoll.com
That is so cute. So maybe the clothes will fit Tommy! Can anyone confirm?
That's all for the clothes. I got some great stuff!
Do any of you have these clothes or know which dolls they came from? Anyone have any of the Happy Family dolls? Let me know in the comments!
Our next series is going to be really fun and does feature some Barbie goodness. Stay tuned!