Hello again!
Last time I posted about the most beautiful Thronecoming Raven Queen that I bought for myself. Well, to get free shipping with the hubby's Christmas present that I bought, I had to get another doll. (Right.....I just HAD to.... ;) )
I present to you...
Lizzie Hearts!
Lizzie is a Royal and was another "Amazon Warehouse Deal." Dented box, no damage to contents

.
After I got all the packing tape ripped off so it looks nice, I realized that the box still holds it's cute storybook shape. So I am sold on Amazon warehouse deals! And if I get a box that's beyond repair, oh well. ;)
Lizzie came out of the box a little less than stellar though. WAY smashed hair.
Yikes. That's going to take some work.
Also, the hair in her crown is supposed to resemble a heart. It's also going to take some work (and some creativity) to get it to spread apart like it should be.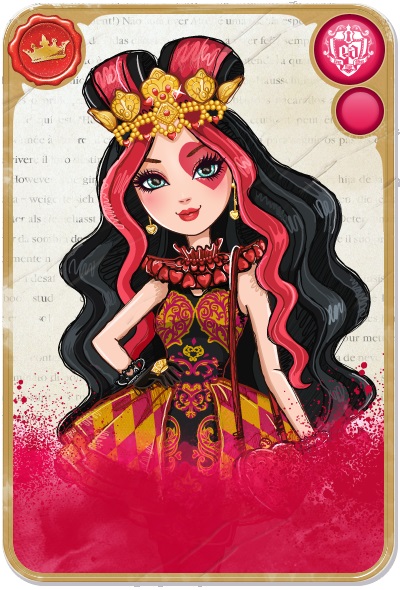 everafterhigh.wikia.com
Nonetheless, I still love her. She is the cutest! Who can't love the heart around her left eye?
I'm however, stumped on her face mold. I know that there are 3 (maybe 4?) face molds for EAH dolls. I'm thinking she's the same as Apple. What do you think?
She is a short doll though, the same height as Maddie.
A cute dress adds to the "Queen of Hearts" theme with filigree patterns and checks on the sides.
Adorable heart purse (that unfortunately does not stay on her shoulder) and those super super super cute heart tights.
Lizzie does not have any other red in her hair besides in the front and it doesn't look too bad now that I gave it a little fluffing.
THE SHOES!
Of course, the future Queen of Hearts has to have something to do with playing cards. So it's on the shoes!
Cards on the front, a square heel...
...and a card on the back; with a heart of course!
I love the shoes. So creative!
Also, can't forget the jewelry! I didn't get a picture of her ring. It matches the shoes, it's 4 cards and her earrings are cute teardrop hearts.
What do you think of Lizzie Hearts? Love her, could have done better with her? Let me know in the comments!
Also, if you are into watching the webisodes, you can watch this one where Lizzie steals the heart of a "special someone!"
Until next time!