Exactly what the title says. Well, I found a doll but she is not Barbie. We'll get to that in a minute.
Here is what I did find for Barbie!....maybe.
Oh my, the yellow is in bad shape. It has a snap and looked Barbie size. The coat is velcro and neither have any tags. I thought the little balloon might be from a Kelly doll. However, there was a TON of Polly Pocket dolls in the toy mix this time so it might be from one of them. A Barbie hand does not fit in the loop.
And look! A PAIR of boots! Know which doll they were from? I think they're pretty snazzy.
A google search for "Pink Barbie Doll Boots" brought up these.
www.pinterest.com
Yowza! The only reason these boots are cool is because they are Christian Louboutin and I hope to own a pair of those $900 shoes someday. Look, Barbie has her own Louboutin collection. I love these shoes but don't like the faces on the Louboutin dolls. What do you think?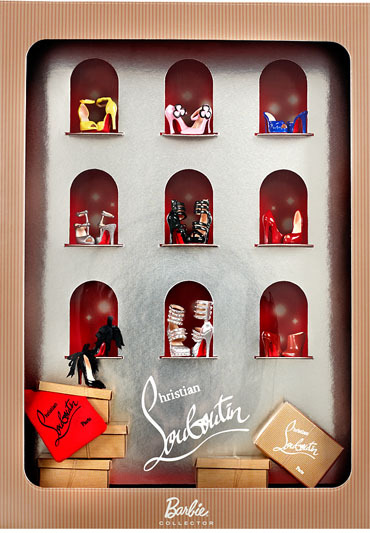 www.ebay.com
Here is the doll I bought. I've seen her the last few times I've been to the store. I've thought about buying her because she looked old but passed her up a few times. I told myself if she was there this time (which I figured she might be) then I would take her.
She has the eyes that close when you lie her down but I have no idea how old she is. My dad specializes in antique toys so I was going to ask him about it. Anyone have any ideas? She has all limbs intact, the only thing that is falling off is her hair.
I will add that she has all the hair, it's not deteriorating. I can see glue in a few places on the head and hair where it was spread about to cover the scalp. The front part where the hair is rooted is going no where. I gave it a good tug and it's solid.
I've been feeling a little under the weather trying to get over a cold and working all day is not helping it go away! I hope to have another post in a couple of days, most likely another one of my collection showcases!
~Love the old dolls~